Filed Under (Blog) by
Lucian Prejbeanu

on 28-09-2008
Aseara eram in Patrick's si fiind un moment in care nimic interesant nu se intampla, avand wireless disponibil acolo, mi-am adus aminte ca de mult m-am gandit daca exista skype pentru windows mobile.
Si cu gandul asta am intrat, am cautat, am downloadat si…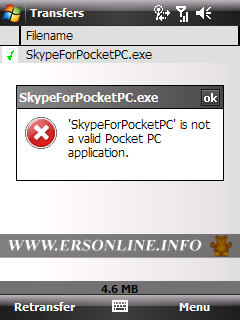 Np, mai incercam inca o data dar si de data aceasta aceeasi eroare.
Uhm, e windows, mai e si mobile, e plin de bugs, reboot the system and try again. Same fail result.
Am mai cautat, am citit pe forums si pana la urma am gasit o varianta care merge.
Oricum, interesant e numele fisierului cat si si eroarea.